Overall, Australians are moderately religious. While religiousness and spirituality have eroded over time, religious practices, beliefs and experiences continue to be seen.
A profile of a person's religiousness or spirituality has multiple dimensions. In this article we explore the religiosity of Australians in these areas:
Religious affiliation
Public religious practice
Private religious practice
Mystical or spiritual experiences
Belief in God
Importance of faith
Religious affiliation
A person's religious affiliation, or religious identification, is one aspect of their identity. While it does not simply translate to holding specific religious beliefs or doing certain practices, it can be helpful, because it provides clues about belonging or being shaped by particular worldviews.
It is a dimension of religiousness that is measured in the question in the five-yearly National Census of Population and Housing "What is this person's religion?"
Around half of all Australians aged 18+ identified as Christian (53%, including 22% Catholic), some 8% identified with another religion and 29% chose "no religion" in the 2016 Census (ABS, 2016). The Census religion question is optional and in 2016, 10% did not respond.
The religious affiliation patterns in the sample of Australians who completed the 2018 Australian Community Survey by NCLS Research are close to the national figures: 52% Christianity (including 19% Catholic), and 8% indicated a religion other than Christianity. Almost four in 10 (38%) had no religion and 2% preferred not to say.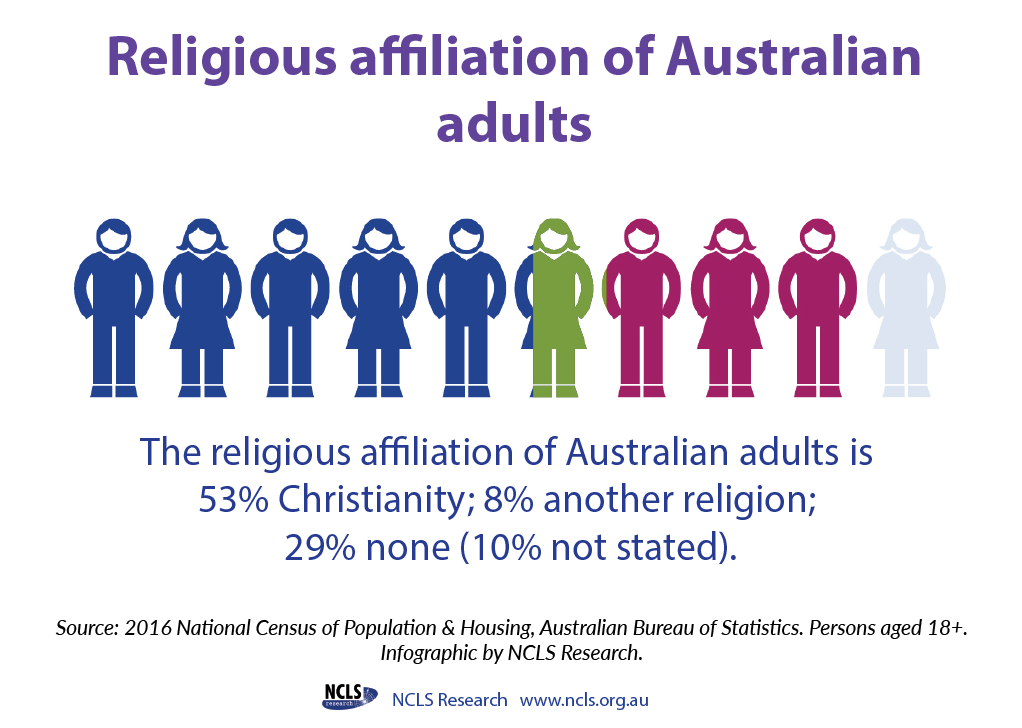 Importance of religious affiliation
How important or salient religious identity is for a person's sense of self and their belonging will vary widely.
For some it will be highly salient, representing a strong and active life of faith. For others, it may represent a long-term or historical family affiliation to a certain faith tradition. Religious identity may be integrated with a more collective approach, signifying belonging to a particular community, perhaps in a similar way to one's ethnic identity.
The increase in the proportion of Australians who have no religious affiliation in recent decades signifies a declining importance of a religious identity for many, particularly younger Australians.