Shopping around
In the preceding 12 months before starting at their current church, two thirds of newcomers surveyed did not visit or attend any other church. This suggests newcomers tend not go "church shopping".
Why did you go to a church?
What triggers first church attendance? We asked people when they began attending a local church again, "what situation or event was most important in your decision to attend?"
The top five reasons for newcomers are: thought something was missing in my life (29%), moved to a new area (10%), spouse invited me to attend/accompanied spouse (8%), had a conversion experience (8%), had a personal crisis (8%). What helped them stay? The people come first. This is the most important thing, that they knew people there. Other influences were they were invited to attend, the church was convenient, the perceived quality of preaching/teaching, the character or style of leader, and it was the local church of their denomination.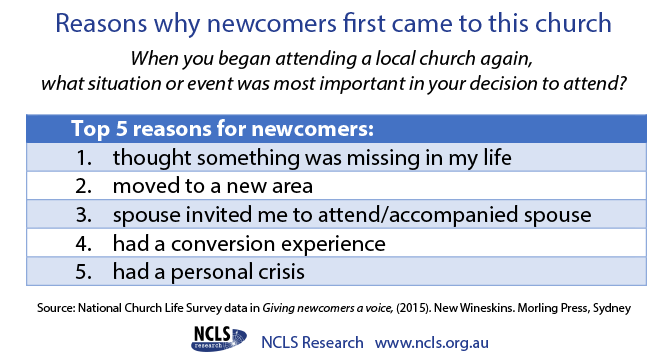 Religious belief, practices and experiences
While newcomers are less likely to assent to some Christian beliefs, their views and experience of God are no different to other attenders. Moreover, they are most likely to have grown in their faith in the previous year.
Becoming involved in local church life
Newcomers are less likely to be involved in formal church outreach and service activities or have ministry roles, but they are most likely to be inviting others to church or informally helping others. Newcomers are very positive about their local church leaders and are most confident about the church's capacity for innovation and achieving future goals.
With the dramatic changes to church and community life brought on by the COVID-19 pandemic, there is some suggestion that people may turn to faith in these times. Anecdotal reports from churches show that new people are attending online courses and groups held virtually, rather than in person. So as people around the country feel the impacts of COVID-19 restrictions and isolation, churches can still be aware of newcomers who may be seeking a community of faith to connect with.
Kathy Jacka and Ruth Powell, NCLS Research with Rod Bennett, WildHive Studios.