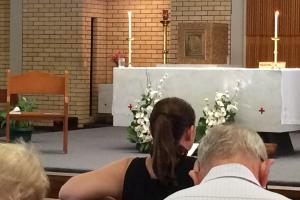 In 2016, in Australia there were around 11,400 local churches forming a national network.
Australia is a nation of small churches, with 47% having less than 50 people attending weekly church services.
Some 5% of churches estimate they have over 500 in weekly church services.
In this article we summarise current estimates of the number and locality of local churches in Australia*. In each case, the changes over time are also explored.
Overview of local churches
When we look at local churches in Australia, in the case of Anglican and Protestant churches the local church is defined as a gathering of attenders (congregation) at a particular location. The congregation may include one or more worship services. In the case of the Catholic Church, local church is defined as the parish, comprising one or more locations or Mass centres.
Between 1991 and 2016 there was a decrease of some 1200 churches. In many instances, a church presence remains in an area but different locations merge.
Churches are spread across the whole nation, with some 3,900 in NSW and ACT, 2,800 in Victoria, 2,100 in Queensland, 1,000 in Western Australia, 1,100 in South Australia, 200 in Northern Territory and 300 in Tasmania.
Local churches are located across all types of contexts with 48% in urban areas, 45% in inner and outer regional areas and 7% in remote and very remote areas.
Local churches by denomination from 1991 to 2016
When examined in broad denominational groupings, most local churches in Australia are aligned with Mainstream Protestant denominations (5,900), followed by 2,700 in Other Protestant and 1,600 in Pentecostal movements. There are also 1,239 Catholic parishes, many of which were made up of multiple mass centres.
Around 11,400 local churches formed a national network in 2016.
The Figure below shows the trends and number of local churches by denominational grouping over the period from 1991 to 2016.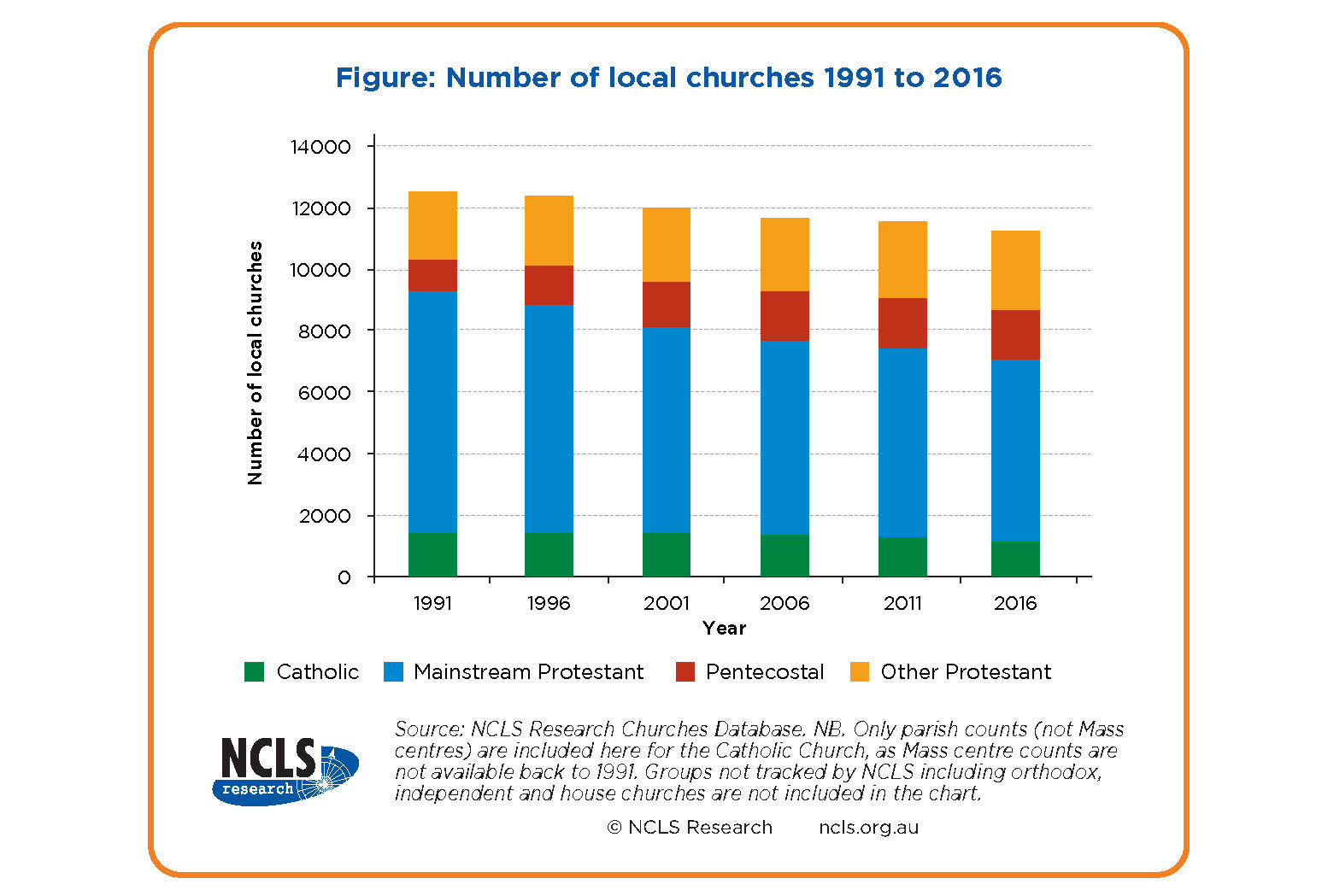 The overall reduction in local churches between 1991 and 2016, as shown in the Figure above, is partly the result of the decline in the large number of Mainstream Protestant churches.
These denominations have historically been represented in high numbers across urban, regional, rural and remote parts of Australia. The declines can be attributed, in part, to increases in the number of Pentecostal and other Protestant locations.
Change in the number of churches over time
In 2016 the Anglican Church had the highest number of local churches in Australia (around 2,800). This was followed by the Uniting Church with around 2,000.
Other large denominations include Australian Christian Churches (formerly Assemblies of God) with 1,070 local churches and the Baptist Church with 1,045 local churches.
Denominations with around 500 to 600 local churches included the Lutheran Church, Presbyterian Church and Seventh-day Adventists.
There are reduced numbers of local churches between 1991 and 2016 for the Anglican Church, Catholic Church, Churches of Christ, International Network of Churches Australia, Lutheran Church, Presbyterian Church, Salvation Army, and Uniting Church.
Conversely, denominations with increased numbers in 2016 compared with 1991 are Australian Christian Churches, Acts Global, the Baptist Church, C3 Australia, CRC Churches Australia, Christian Reformed Churches of Australia, Seventh-day Adventist, and Wesleyan Methodist.