How often do Messy Churches meet?
The Messy Churches Network Survey of 2018 stated the most common time-frame for Australian Messy Church meetings was monthly. Indeed, 64% of Messy Churches were held on a monthly basis. Conversely, very few, only 2% met on a weekly basis.
Some 11% of Messy Churches met once a term and some 5% met occasionally. The remaining 18% had another frequency of meeting.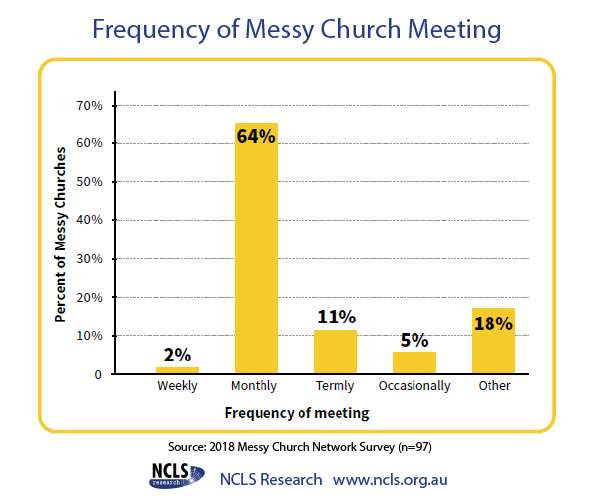 The times of choice
Afternoons or evenings were the most common times of the day for Messy Church gatherings. Of these, Sunday afternoons/ evenings were the most popular times of choice (57%), followed by Saturday afternoon/ evening (20%) and then Friday evenings (15%).
Of the larger Messy Churches that indicated they had 80 or more people in attendance, four out of the seven met either weekly or monthly, and three of the seven met either termly or twice-a-term. (Note small sample size).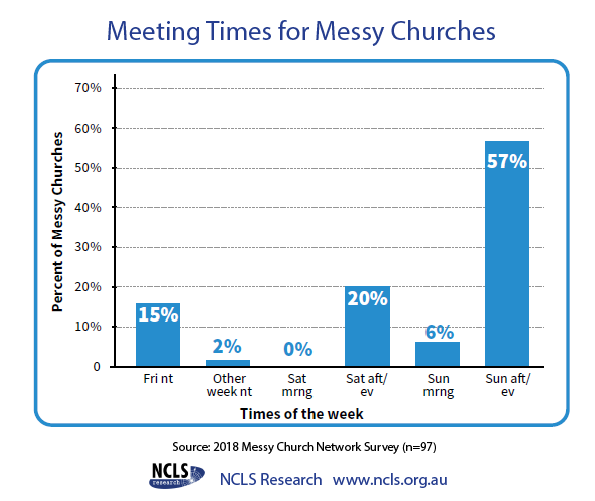 Messy Church activities
From a list of survey response options, Holy Communion was the most commonly selected of the Messy activities, practised by nearly one in five Messy Churches. Baptisms were indicated as an activity by only one in twenty Messy Churches. Also indicated by the respondents were other activities that didn't necessarily occur at the church building, such as Messy Camp, however this was selected by only a few.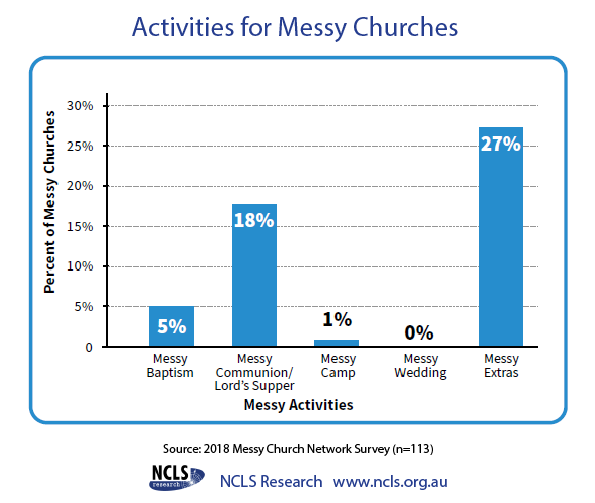 Messy extras
When asked to record their own type of activity held, written responses indicated that nearly 3 in ten respondents (28%) conducted special Messy Activities at Christmas and Easter. Plus, some 27% of churches took part in a number of other Messy Extra activities. These other events included a bonfire, dinner, Mother's Day, pudding making, waterslide and Science Week. Only a few percent, indicated they held Messy Movies or Picnics.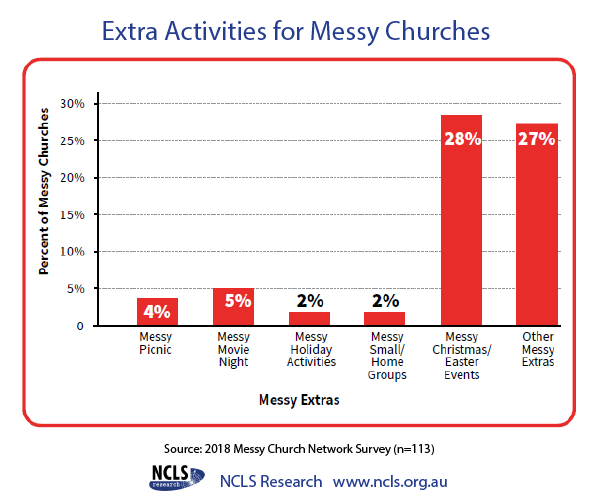 Nurturing creative worship
Many churches have adopted Messy Church style of meetings in an effort to garner the interest of local residents who might find this style of spiritual activity more accessible and engaging, than a traditional church worship service. Most are meeting monthly, on a Sunday afternoon or evening.
Evidence of the fluidity of this style of alternate worship is reinforced by the big difference in responses to survey questions. A great variety of activities were utilised by churches at their Messy Church gatherings, from bonfires, to picnics and science experiments. This shows that congregations bend and shape their creative approaches to suit the varying needs of 'messy' regular attendees and the unique communities around them.
It seems that certain Christian practices of faith, such as the Lord's Supper and Baptism, may be challenging ceremonies in the all-inclusive Messy 'arena'. While some churches did incorporate particularly the Lord's Supper into their Messy Church activities, these practices weren't commonly used overall. Whether that is because of the 'seeker' nature of attenders i.e. people who are not necessarily practicing Christians, or whether it is challenging for leaders to integrate such practices is yet to be clarified.
What is clear is that key Christian celebrations of Easter and Christmas, appear to be utilised as compatible Messy Church activities in the yearly calendar. These survey responses suggest that Messy Churches, in their own way, are continuing to share the story of Jesus Christ, his birth, life, death and resurrection.
Kathy Jacka and Sam Sterland, NCLS Research with Rod Bennett, WildHive Studios.