Understanding church vitality
Christians understand themselves to be called into a relationship with God, with others in the church and with people in the wider community.  This underpins our measures of church vitality.

What is meant by the "vitality" of local churches?
Churches help people to respond to the Christian faith, to worship God and to explore the implications of faith in everyday life. Churches are communities of believers, places of love and acceptance. Churches are places where people can be caught up in God's mission to the wider community and beyond.
"Church vitality" is ultimately about the quality of these various aspects of church life — the extent to which these aspects are well developed, well recognised and central to the life of churches.
The quality of these aspects of church life can and does vary. The frailty of humanity means that there will be blindspots where local churches need to improve what they do. There will always be room for churches to develop their vitality. It is into this context that our research seeks to make a contribution.
Yet it is a key principle of our research that we should seek to identify the strengths of our churches, not simply focus on the weaknesses. The strengths of our churches are our best springboards for the future. Where there are weaknesses, they can best be addressed by extending what we do that works well.
The source of vitality
You may recall times when your church involvement was life-giving. A spiritual awakening, a timely sermon, an experience of God's presence in the church community, a helping hand in time of need — such experiences are signs of life in a church.
A theme in the Gospel of St John is that Jesus is the source of life. He is the true vine without whom it is impossible to have real life. Jesus declared, "I have come that they may have life and have it to the full" (John 10:10). Since Jesus is the source of this life, our expectation is that life would be seen in the churches. In fact, we should see life to the full!
Many have found in the churches a life that the rest of the world cannot offer. The life that Jesus offers, which is found by faith, is present in churches week after week for anyone to see, as Christians love each other.
In view of this ever-present source of life, every local church should be able to identify times of vitality in its history and in the present. What are the signs of life in your church?
Identifying vitality in churches
The basis of our research is that it is possible to both identify and measure aspects of vitality within the life of churches. This provides an indication to church leaders of where strengths and weaknesses may lie in their churches: where there may be aspects to celebrate, aspects to remedy and aspects where deeper change is needed.
The Church Life Survey provides a way of measuring aspects of a local church's vitality. This is done by gaining insights into the attitudes, experiences and behaviour of its people, gathered through a common survey form. This approach recognises and affirms that the life of a church can be seen in the stories of its people; the way in which they have been touched by God and by the activity of others in their lives.
Continuing research by the National Church Life Survey over many years has sought to identify and measure separate Core Qualities of a local church, based upon the survey responses of its people. This is not the only way that church vitality can be researched, but it has proven to be a most helpful way of doing so, providing a useful analysis tool for churches wishing to foster their vitality.
The resource that we have developed, called the Church Life Profile, identifies nine Core Qualities and three attendance measures that together build a picture of vitality in local churches.
What can research tell us?
Many of us have picked up a book about a successful church, read its story and tried to understand what made that local church different. We might have wondered what it would be like to try the same things at our own church. The kind of research based on National Church Life Surveys is a search for a different kind of story than the story of one successful church.
It examines large numbers of churches instead of one and asks questions like: "What do the strong churches all have in common?" Research using large numbers of churches can describe what is going on in many different contexts. It can focus on the shared characteristics of healthy or growing churches.
A common theme of research into church life is that there is no one aspect that dictates the effectiveness of a local church's ministry and mission. Instead the contribution of each aspect of church life, whether positive or negative, needs to be considered separately. Identifying separate "Core Qualities" of church life and how these interact is central to the approach used to measure church vitality through the Church Life Survey.
Our research findings are intended to inform a practical process for local churches. The first part of the process is an exploration of what church vitality is and how to measure it. In exploring this, we will consider the relationship between church vitality and growth in attendance. The second part of the process is about what to do with what has been measured, how to use your Core Quality results to enhance church vitality. The principle means we offer are creative planning processes. Here the findings really do become a manual as we offer step-by-step processes that can be used by every church.
Basis of NCLS vitality measures
Christians understand themselves to be called into a relationship with God, with others in the church and with people in the wider community. This "three-cornered" relationship underpins the thinking behind the measures of church vitality.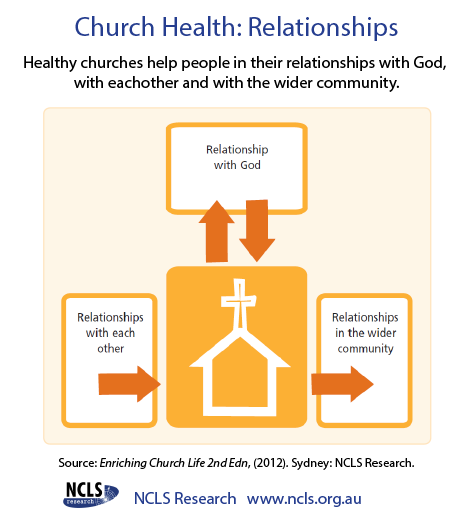 Relationship with God
The first and greatest command is to love God with all of our strength (Matthew 22:37). Church attenders seek to worship God and to be transformed through their relationship with God. Without this transformation or spiritual growth we are only "playing liturgical games or having charismatic caresses" (CEMPAC, 2004, 99). This dynamic aspect of the Christian faith is reflected in the faith and worship Core Qualities.
Relationships with each other
Faith in God also involves joining with others who are on the same journey of faith. The writer of the first letter of John sums this up by saying that "if we walk in the light…we have fellowship with one another" (1 John 1:5–7). Relationships between those in the light are to be characterised by love that is both truthful and practical (1 John 3:11–18). Relationships within the church, the degree of belonging that attenders feel, and frequency of attendance at church are covered by the belonging Core Quality.
The need for effective church leadership reflects a biblical pattern as well as a broader sociological reality. Leadership can provide both stability in a church and be a catalyst for change. How the leadership and their endeavours are viewed by church attenders is covered in the leadership culture, vision and innovation Core Qualities.
Relationships in the wider community
While the first command for the Christian is to love God, the second command is to love one's neighbour as oneself (Matthew 22:34–40). Our concern for our neighbour can include their physical and social needs (Matthew 25:31–46), the call to salvation and discipleship (Matthew 28:19,20) and justice and mercy (Matthew 5:6,7). We are to play our part in making present the kingdom of God. Practical ways in which church attenders do this are measured in the service, faith sharing and inclusion Core Qualities.
The flow of newcomers is an important measure of how well a local church is connecting with the wider community. These are not people who have come from another local church but are fresh to church. Their presence is often the fruit of the outreach efforts of the church and its attenders.
The issue of growth and decline in attendance is one that continues to be high on the agenda of many local churches. For some the need to engage this issue has to do with future survival. For others it is about pursuing the most effective approaches for outreach, so that they can connect more effectively with the wider community.
The question can be asked whether growing churches also have higher levels of vitality.  In short, the answer to the question is yes, there is a relationship between many aspects of church vitality and growth and decline in church attendance.
---
Measuring church vitality

About the 9 Core Qualities of church life
Over 30 years NCLS Research has identified 9 Core Qualities shown to be central to the life of a vital and healthy church. The blend of these qualities points to the unique character of each church, its areas of strength and its potential for growth. These Core Qualities are measured and grouped into three areas of church life: