While 2020 was a challenging year for many, including the global pandemic and natural disasters in Australia, latest results from the 2020 Australian Community Survey by NCLS Research show that Australians are still engaging in spiritual practices to a moderate degree.
Nearly seven in 10 Australians say that spirituality is important in personal wellbeing, in the context of crises such as bushfires and COVID-19.
Just under half of Australians report personally drawing on spiritual practices during the year, with 15% of those people increasing the level of their spiritual practice in 2020.
Spending time outdoors in nature; as well as music; prayer and meditation; and religious/spiritual talks, clips and podcasts; are amongst the top spiritual activities that saw a rise in the frequency of practice. 
Nearly seven in ten Australians affirm spiritual practices as important during crisis
According to the 2020 ACS, some 68% of Australians say that spiritual practices are important to support one's personal wellbeing in times of crisis (including bushfires and the global COVID-19 pandemic).
The strength of certainty of response waivers slightly, with some 34% saying that it is fairly important and another 34% who rate its importance even higher.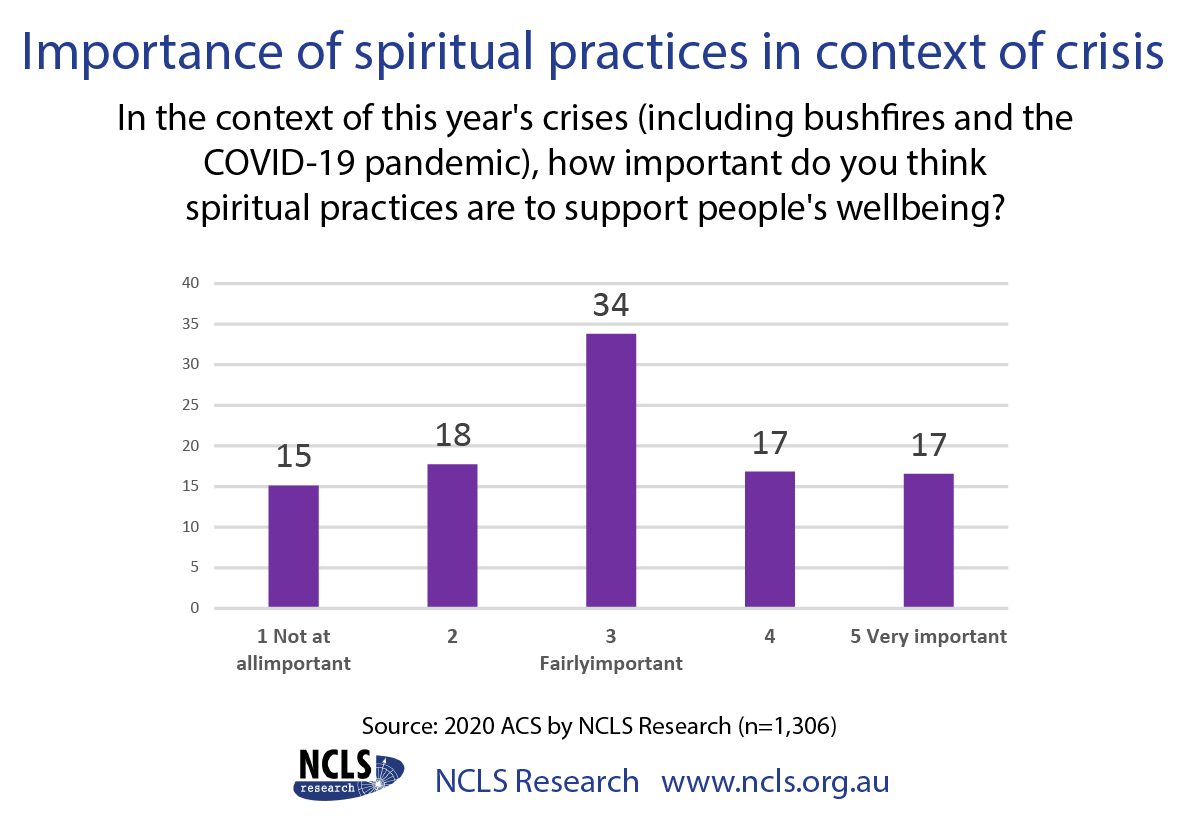 Spiritual practices in 2020 compared to 2019
During such a period of stress and crisis as 2020 presented, some 45% of Australians say they have personally drawn on spiritual practices. Of those who have been practising spirituality, some 24% say it has been at the same rate as in 2019, whereas a small proportion (15%) have increased their level of spiritual practice.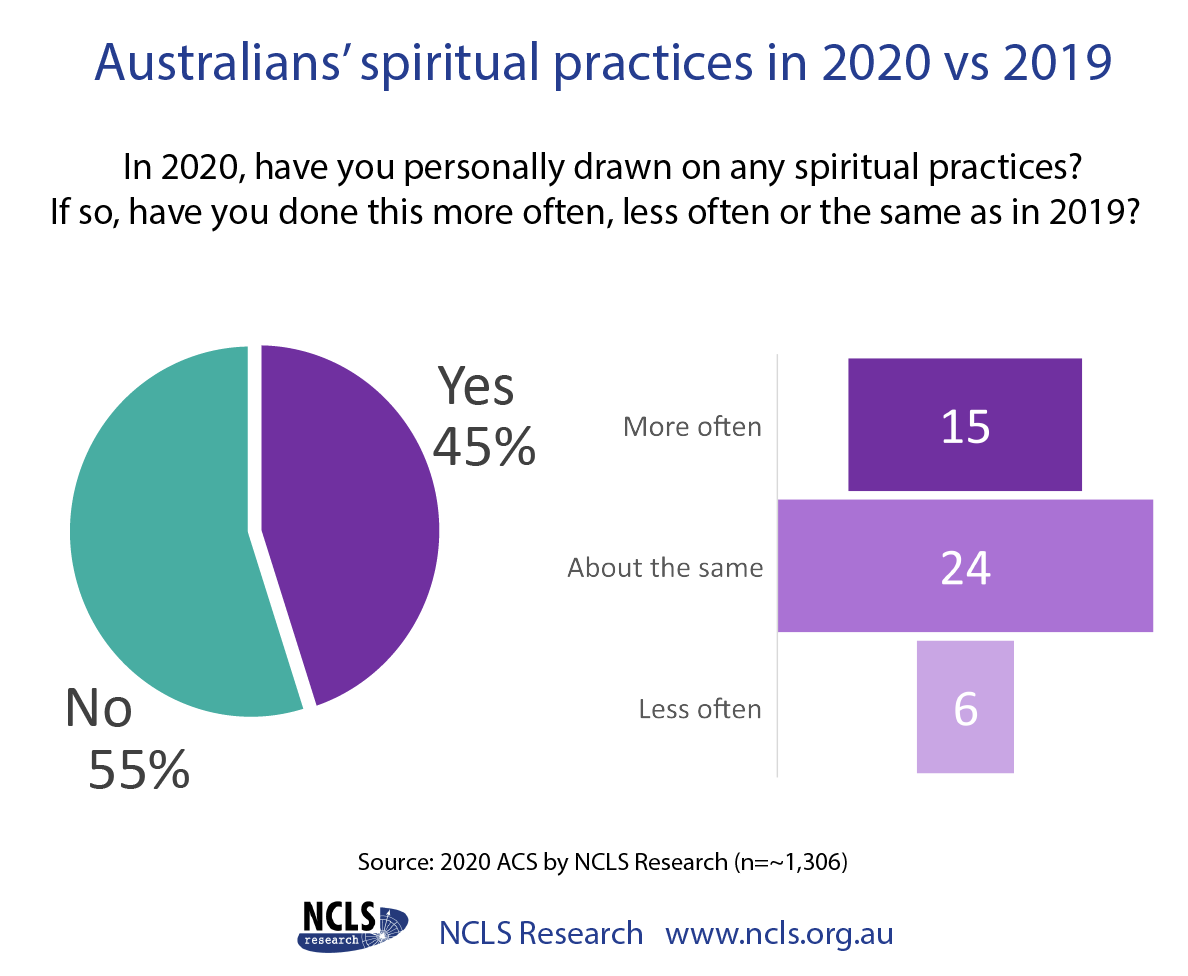 Music, prayer, nature, clips and podcasts most popular in usage
Spending time outdoors in nature; as well as listening to music that lifts one's spirits were the two most popular spiritual practices selected by 23% of respondents who reported an increased level of those activities in their life. Some 18% of Australians listed prayer, meditation and mindfulness, while 10% nominated religious or spiritual talks, clips and podcasts, as a more frequent activity for them through 2020.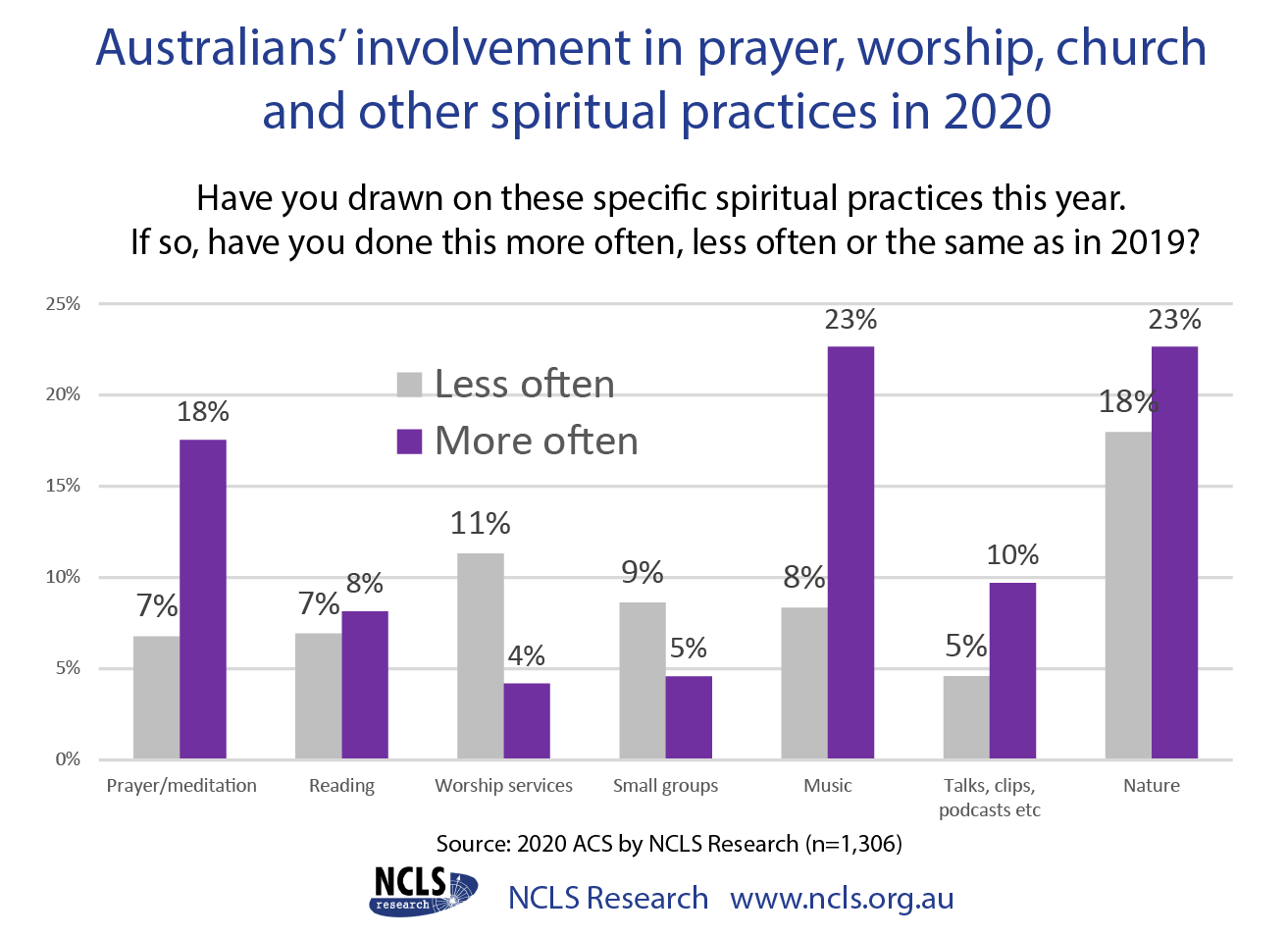 Decreases and increases in spiritual practices
Both church worship services and small groups show a decrease in attendance during 2020, with around one in ten Australians reporting less participation in worship services and small groups than in 2019. This is perhaps unsurprising, due to COVID restrictions on face to face gatherings. Spiritual activities that show increased levels of participation, include music, nature, prayer and meditation.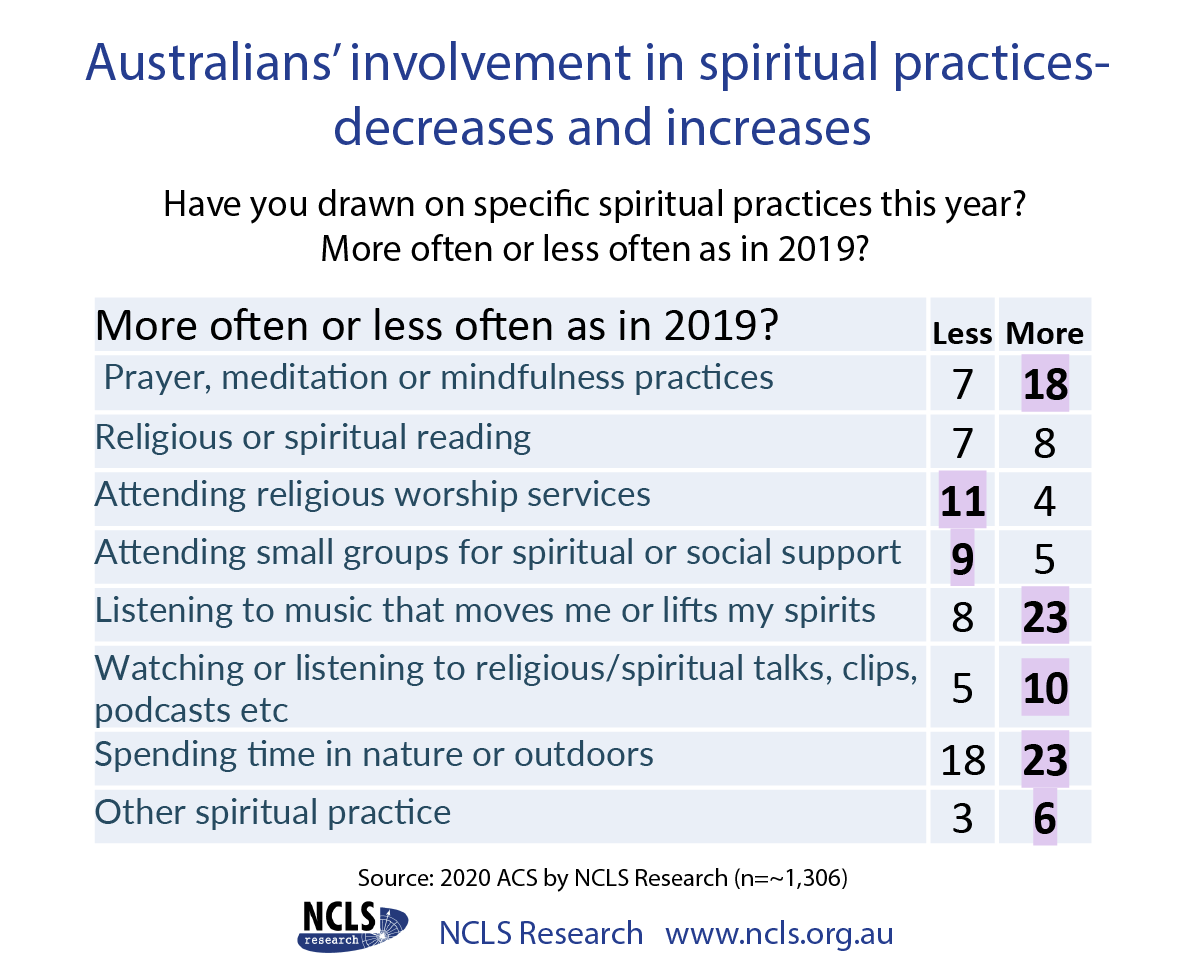 Religious service attendance in 2020
Despite anecdotal reports that many Australians joined in on online church services during COVID-19 restrictions, the feedback gained by the 2020 ACS suggests that worship services experienced a decline in participation after March 2020. However, other activities show a rise. It could be important for churches to notice the trends in music, nature, prayer, meditation and mindfulness as they shape their ministry activities to connect with their community.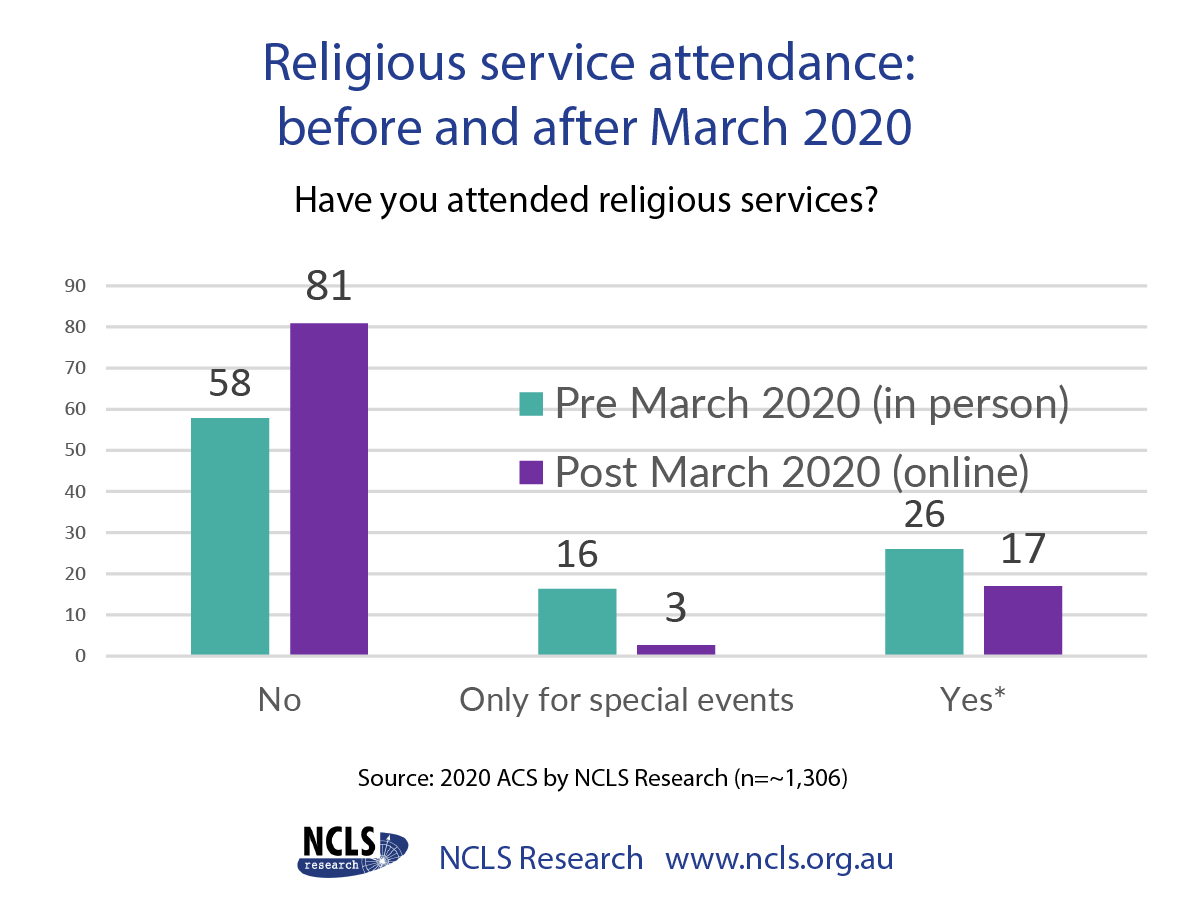 Some of the decreases and increases in spiritual practices seen in these research results may reflect the social isolation restrictions experienced by Australians this year. More solitary activities such as nature, music, prayer and meditation might have been more compatible with social distancing measures, however those activities did also see an increase in frequency of practice amongst some Australians. 

Of interest is that many Australians affirm the importance of spiritual practices in supporting personal wellbeing. Whether or not they practice spirituality themselves, they also express a preference for nature, music, prayer and meditation as spiritual activities that appeal. More information on these preferences is available in the article Spiritual practices that appeal to Australians.
As social distancing measures are relaxed towards the end of 2020, and face to face gatherings are easier to facilitate, faith-based organisations, schools, community care agencies and churches, can be aware of the impact of such a high stress year on people in their local community (see article Stressors, isolation and support amongst Australians in 2020). As well, the potential to invite people to church services and activities returns again, particularly in time for Christmas (see article Four in ten Australians say they are open to being invited to church).
Watch video series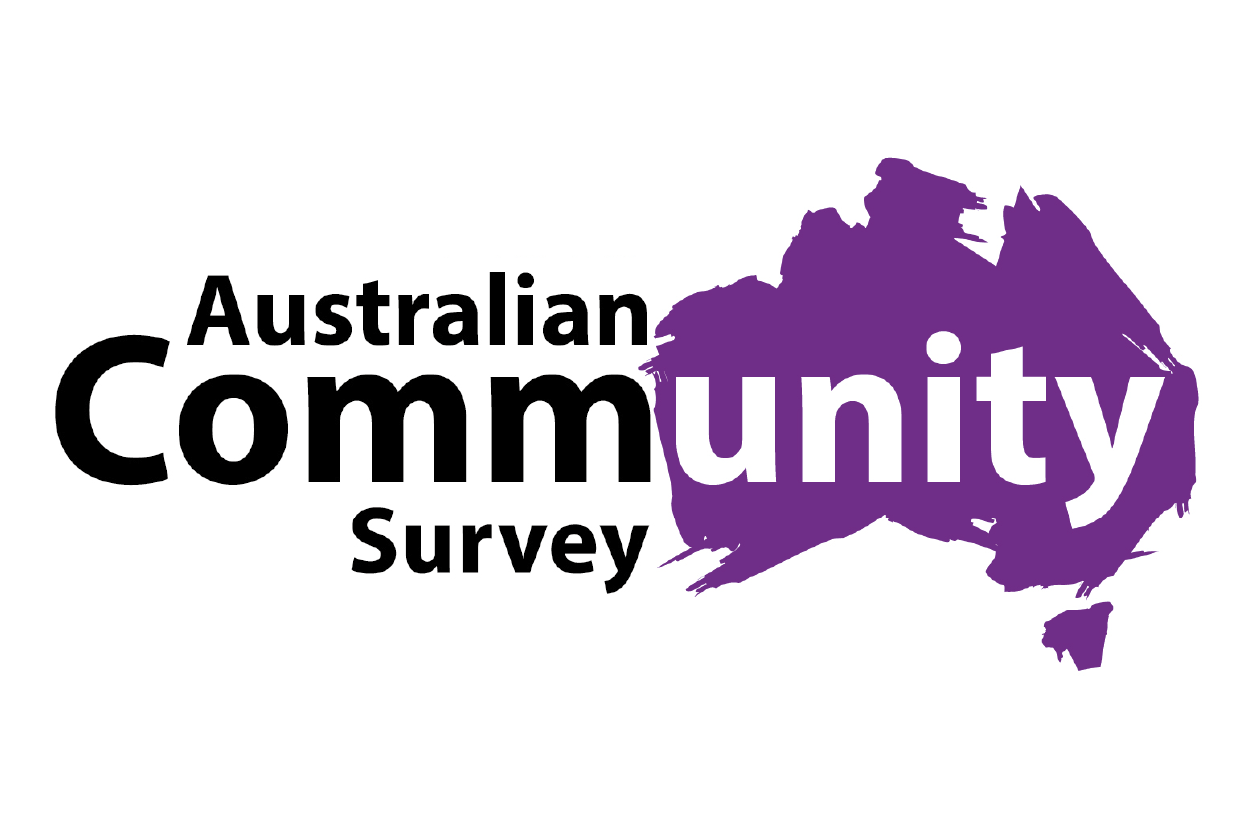 Taken from the keynote address by Dr Ruth Powell, Director of NCLS Research, at the APTO Virtual Conference, December 2020. These results are from the 2020 Australian Community Survey run by NCLS Research.
Videos include: Spiritual profile of Australians; Australians' sources of stress in 2020; Australians' view of the importance of spiritual practices; Spiritual practices 2020 vs 2019; and Are Australians open to invitations to go to church?